Today, 26th March 2016, marks the 4th anniversary of the passing of Dr David Rickards, our first chairman who worked tirelessly over many years to save a dilapidated and underused Grade II listed building from the hands of developers and deliver it back to the community of Grenoside.
It took nearly five years to secure funding for the restoration from The Heritage Lottery Fund and other sources, but in the meantime, David spent many hours dismantling internal structures, clearing the overgrown garden and planning a wealth of activities and uses for the Reading Room, many of which, such as the Monday Café, are now being enjoyed by visitors.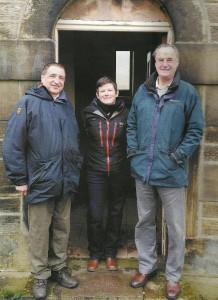 Alan Hooper, Gail Cooke and David Rickards outside the Reading Room before restoration. Photograph courtesy of Mosaic Magazine.

Funding for the restoration was finally agreed early in 2012, but sadly, David did not live to see the building work start. Since then, the remaining trustees have worked together to realise David's vision of a Heritage community space for the use and enjoyment of all. However, without his boundless energy and dedication, we would not be in the position that we are today. David would have been delighted with the Reading Room today and has left a fine legacy for the village of Grenoside.