On Saturday 11th June and Sunday 12th the Reading Room hosted a successful and inspiring Pancreatic Cancer fundraising and awareness weekend with Joe Scarborough. Limited edition prints of Joe Scarborough's Grenoside painting at £20 each can be ordered at the Reading Room. A print is on display at the Reading Room. Well done to Robbo's Angels!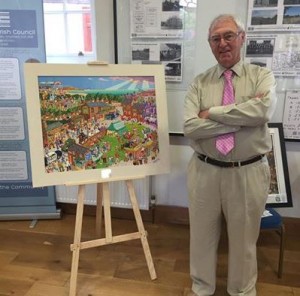 The event was organised in memory of Chris Robinson of Grenoside by his family (see story here.) We received this message from Jenny Christie, Chris's daughter:
"This weekend has been an overwhelming success and we have raised just over £1600, all of which will be donated to Pancreatic Cancer UK.
Thank you for your help in getting this arranged. The venue was perfect for the occasion.
Kind Regards
Jenny Christie
PS I'm walking 210 miles over 11 consecutive days in November in support of Pancreatic Cancer UK.
Please sponsor me by going to my JustGiving page.
'Like' and SHARE my Facebook page, Robbos Angels to help me generate interest and engage as many people in my fundraising attempts as possible.
#stridingforchange